POWERHOLD PRODUCT LINE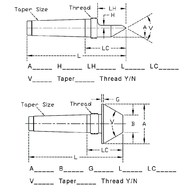 Custom Dead Centers
PRODUCT:
Custom Dead Centers
APPLICATION:
Cylindrical Grinding , Turning
BRAND:
Bruckner
CATALOG PDF:
FEATURES:
Some applications require a center that isn't offered as a standard item. You may need tool clearance, critical diameters, threads for removal, etc.
Please fill out the dimension request sheet (linked above) and send us a copy for a quote.
For additional information contact our SALES TEAM: [email protected] or 800-349-1044