POWERHOLD PRODUCT LINE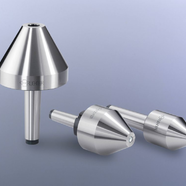 ZA Series Live Centers - Bullnose
PRODUCT:
ZA Series Live Centers - Bullnose
APPLICATION:
Cylindrical Grinding , Turning
BRAND:
Bruckner
CATALOG PDF:
FEATURES:
- Bullnose Head - made of wear resistant, through-hardened alloy tool steel
- Taper Shank - case-hardened for protection from damage
- High Concentricity - guaranteed with a test report.
- Large Precision roller bearings, free from clearance - to withstand the radial and axial forces.
- Shaft Seal - protects the bearings from dirt, dust and coolant.
- Maintenance - the bearings are maintenance-free due to permanent lubrication.
Types:
- ZA - with 60 or 75 degree point
- ZAG - high accuracy, with 60 or 75 degree point
- Version A - any of the above with thred for draw-off
For additional information contact our SALES TEAM: [email protected] or 800-349-1044